Special Offers
Online Member Referral
Receive $25 for every family member you refer to APCU!
We will deposit $25 in your account for every family member or eligible co-worker you refer to the credit union that opens a new Primary Savings Account with a deposit of $100 or more. We will also deposit a $25 bonus into your family member's or eligible co-worker's account, too. Simply follow the below instructions.
Click here to be taken to our secure, online referral form where you will be asked to fill out your name, member number, and e-mail address, as well as the names and e-mail addresses of the family members or eligible co-workers you wish to refer.
Once the online referral form has been submitted, an e-mail invitation will instantly be sent to the individuals you referred. This e-mail will contain a unique referral code that must be provided on your family member's or co-worker's "New Account Application". A link containing a "New Account Application" is available in the referral e-mail, along with simple, easy to understand account opening instructions.
When you refer your family members and eligible co-workers to APCU, you are giving them the opportunity to share in the same great money-saving financial services you enjoy, such as loans at low, affordable rates and savings and checking accounts that earn higher than average interest rates. You'll also give your family members the safety and security of having their money in one of the nation's oldest, largest, and strongest federally insured credit unions.
*Offer is limited to new memberships only. APCU employees are not eligible to participate. A minimum opening deposit of $100 to a Primary Savings Account is required to receive the $25 Online Referral bonus. $25 Online Referral Bonus will be credited within one (1) business day of the new membership opening date to the Primary Savings Account. $25 Online Referral bonus deposit offer may not be combined with any other offers made by APCU. APCU reserves the right to extend or cancel this offer at any time.
Swap & Save
Bring your new or used vehicle loan, or recreational vehicle loan, to APCU and we will give you $100*
Not only can you make $100 by bringing your existing vehicle loan to APCU, but you may qualify for a lower interest rate and we may be able to save you money over the life of the loan! For a limited time only, when you bring your auto loan to APCU, we'll give you $100*! Simply mention keyword "AutoPromo" when applying, which is easy and fast!
Just call one of our friendly, knowledgeable Loan Sales Representatives at (800) 849-8431. Our representatives are standing by 24/7 to take your application over the telephone and process your request. Applications are also available online through our Online Application Center by clicking here. You will receive a response to your online application in 90 seconds or less.
*$100 cash back offer only available for vehicle loan amounts $10,000 and greater brought over from other financial companies. Membership required. All loans are subject to approval of credit. Your actual rate is based upon your credit history. APCU is an Equal Opportunity Lender.
Skip-a-Payment
Extra Cash When You Need It Most
Wouldn't it be great if you could skip your consumer loan payment and have some extra cash in your wallet? Well, we have some good news for you. With Atlanta Postal Credit Union's (APCU's) Skip-a-Payment program, you can!
Skip-a-Payment allows you to skip payments on certain consumer loans with the credit union up to twice during the life of the loan. You can choose whichever two payments you like, as long as they are not consecutive payments.
There is a $25.00 processing fee for each loan payment you choose to skip. Click the link below for details about APCU's Skip-a-Payment program. Or, you can call (800) 849-8431 and speak with the Skip-a-Payment Administrator about how our Skip-a-Payment program can help free up the cash you need, when you need it.
Love My Credit Union
APCU knows our members work hard for their money, that's why we're proud to be able to offer you savings with the Love My Credit Union Rewards program. Here are just some of the valuable discounts members receive from trusted American companies on products and services you use every day.
$100 cash reward with every new line activated with Sprint! Current customers will receive a $100 cash reward for every line transferred into Sprint Credit Union Member Cash Rewards. Plus, enjoy 25% off select accessories purchased in Sprint Stores.*
Save up to $15 on TurboTax federal products!
Get trusted protection at true savings with the TruStage Auto & Home Insurance Program.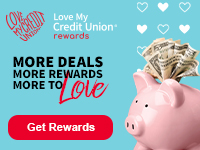 To find out more and learn about other valuable discounts, visit LoveMyCreditUnion.org. You get all these offers and discounts just for being a member of APCU.
*Activ. Fee: Up to $30/line. Credit approval req. Sprint Credit Union Member Cash Rewards Offer: Offer Ends 12/31/2019. Avail. for eligible credit union members and member employees (ongoing verification). Tax ID req. to establish business acct. Switch to Sprint and receive a $100 cash reward for each new smartphone line activation. Reqs. port-in from an active number (wireless or landline). Existing customers receive a $100 cash reward for each new smartphone line activation and/or a $100 cash reward for each smartphone line transferred to program. New lines req. activation at point of sale. Max 15 lines. Sprint acct must remain active and in good standing for 31 days to receive Cash Reward. Excludes MBB devices, tablets and Sprint Phone Connect, upgrades, replacements and ports made between Sprint entities or providers associated with Sprint (i.e. Virgin Mobile USA, Boost Mobile, Common Cents Mobile and Assurance.) May not be combinable with other offers. Other Terms: Offers/coverage not avail. everywhere or for all phones/networks. May not be combinable with other offers. Offer, terms, restrictions, and options subject to change and may be modified, discontinued, or terminated at any time without notice. Restrictions apply. © 2018 Sprint. All rights reserved. Sprint and the logo are trademarks of Sprint. Other marks are the property of their respective owners.
---
Get Away Today
At APCU, we believe in helping hardworking people save money every day. We know that it can be challenging to afford a vacation or special trip, so we work with a few partners to offer discounts for APCU members.
Make priceless family memories with an unforgettable trip! Get Away Today offers theme park tickets for some of the major attractions in Orlando. There are a variety of Walt Disney World® Resort ticket options available including Base Tickets, Park Hoppers®, and Premium tickets all ranging from two to seven days in length. Universal Studios®, Universal's Islands of Adventure®, Busch Gardens, and Sea World tickets are also all available.
If you're thinking about a more exotic vacation, they also offer options in Hawaii, Mexico, and at the all-inclusive Sandals® and Beaches® Resorts in the Caribbean.
Mention APCU when you call Get Away Today at 1-855-GET-AWAY (438-2929) to get the best prices and service on airfare, hotels, and attractions.
NOTE: When you click on any of the listed links, you are leaving APCU's website and you are linking to an alternate website not operated by the Credit Union. APCU is not responsible for the availability or content of any alternate website. APCU does not represent either the third party or you if you enter into a transaction. Privacy and security policies may differ from those practiced by the Credit Union.
Resources